Underground Locomotive x 3
Model-XP12.5, Serial Number ME064767, ME064769, & ME064770, 12.5 ton, 6 cylinder, Diesel, Exhaust Brake
Dimensions: 4ft-8in wide by 12ft-9inch long with a wheel length of 29-1/2inches (inside), 5ft-4inch height with a 5ft-9inch height from track
Explosion Proof Locomotive
Hydrodynamic three-speed transmission, Rigid bevel gear axles with planetary reduction wheel hubs.
Eight rubberized cushioning pads, four at each axle, are designed to compensate for uneven track and provide a smooth ride.
Wheels are made of cast steel then heat treated.
Single lever control, hydraulic wet disk brakes are integral into each drive axle for secondary service braking.
Air brake controls, Cummins Engine, 24-Volt Battery System, Dual Headlights (Front & Rear independently controlled).
10 Cubic Yard Dump Muck Car x 12
Manufactured by Mining Equipment Inc., Durango CO, USA
Model-P10-086R2, Rail Crawler, Steel Wheeled, Turnover discharge dumping style, automatic car coupler, 4ft-8inch wide by 12ft-6inch long, with a wheel width of 29-1/2inch (inside).
Bin height 5ft-1inch with a height of 6ft-7inch from track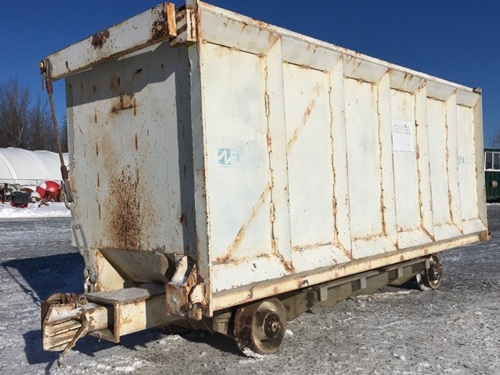 Please contact: jrussell@marathondrilling.com
Toll free: 1-800-669-2086
www.marathondrilling.com