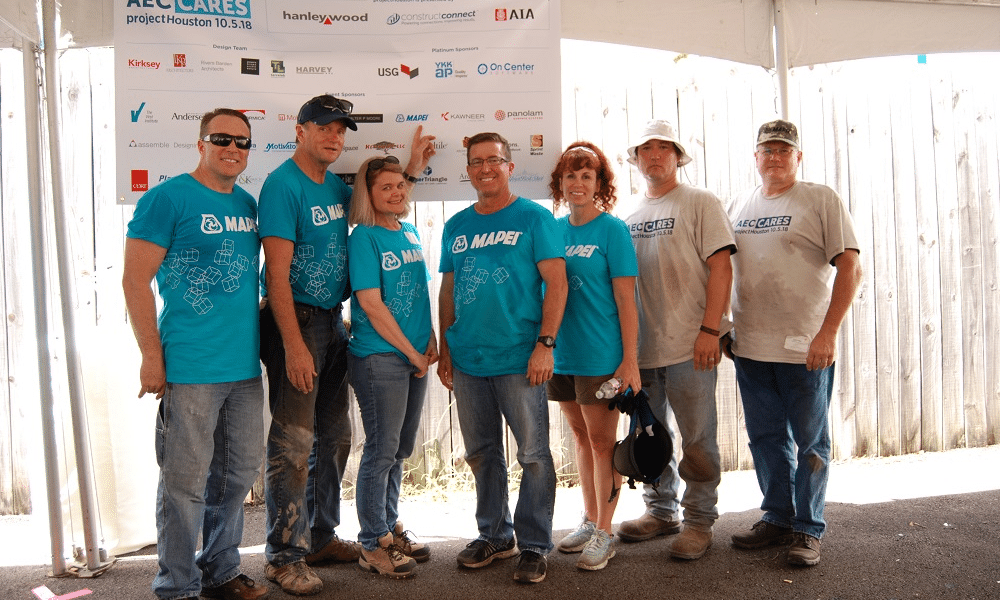 On Oct. 5, MAPEI partnered with the charity organization AEC Cares for "ProjectHouston," donating time and materials in order to help improve conditions at Santa Maria Hostel in Spring Branch, which is a neighborhood of Houston, Texas. Santa Maria Hostel is a residential addiction treatment and housing facility that is home to approximately 100 women and their children.
According to Nadine Scamp, hostel CEO, "The mission of Santa Maria Hostel is to empower women and their families to lead healthy, successful, productive and self-fulfilling lives. We provide a full continuum of care to meet each individual or family where they are on their recovery journey, from community-based prevention and intervention programs, to outpatient and residential treatment for substance use disorders, to long-term housing and recovery support."
Hit hard by recent hurricanes, the building and surrounding grounds were in need of their own recovery. Consequently, AEC Cares adopted Santa Maria Hostel as the program's 2018 "blitz build," a daylong building project. MAPEI has been a participating sponsor in every AEC Cares project since the first one in 2007. Mike Granatowski, MAPEI's Director of Architectural and Commercial Projects, has been instrumental in organizing MAPEI's involvement with AEC Cares events. He described this year's project as "the most successful one yet. Working together over the course of one day, architects, engineers, contractors and manufacturers' representatives renovated the hostel's conference room, interior training area, dining room, children's playground, garden and green area. As always, it was a great day's work for a worthwhile cause.
"In support of AEC Cares ProjectHouston, " MAPEI supplied 70 bags of Planiprep SC, our fiber-reinforced, cement-based skimcoating compound," Granatowski continued. "The Planiprep SC created a smooth, even floor surface in the interior rooms. The rapid-setting compound is perfect for use in a blitz-build installation, as flooring can be installed 30 to 60 minutes after application. And, when you only have one afternoon, speed and durability count."
Founded in 2011, AEC Cares is a 501(c)(3) non-profit organization composed of architects, engineers and contractors, as well as manufacturers' representatives who assemble teams of professionals, once a year, from the United States to donate time and products in order to renovate an at-risk facility.
RECENT: NFPA-502 Fire Protection Case Histories: Elizabeth River Tunnel and the Hugh L. Carey Tunnel