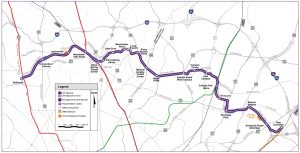 Construction activities on the Purple Line Light Rail Transit project in Maryland began in August, after the Court of Appeals granted the State's request to stay the Record-of-Decision during the appeals process. Revenue Service Availability on the P3 project is currently scheduled for March 11, 2022.
On Aug. 28, a groundbreaking ceremony was held with Governor Larry Hogan and U.S. Secretary of Transportation Elaine Chao in Prince George's County. On the same day, the U.S. Department of Transportation's Federal Transit Administration (FTA) announced a $900 million federal grant agreement for the project. The light rail line will make travel across Montgomery and Prince George's counties faster and more reliable for thousands of Maryland residents, improving access to major business and activity centers in the state's most populated counties.
"The Purple Line is a great example of what can be achieved when federal, state and private partners work together," Chao said. "Combining U.S. Department of Transportation resources with private funds, this project is well on its way to transforming public transit in urban Maryland."
The 16.2-mile Maryland Purple Line will connect major activity centers in Bethesda, Silver Spring, Takoma-Langley Park, College Park, and New Carrollton to three Washington Metropolitan Area Transit Authority (WMATA) rail lines, all three Maryland Area Regional Commuter (MARC) rail lines and Amtrak's Northeast Corridor line. Although the project will provide direct connections with Metrorail and MARC, it will remain physically and operationally separate. When completed, the line will make suburb-to-suburb cross-county travel easier and faster.
RELATED: Traylor Bros. Invests in Ballard Marine Construction
The project includes the construction of 21 stations and one short tunneled section. Maryland Department of Transportation (MDOT) officials signed the $5.6 billion P3 contract in March 2016 with the Purple Line Transit Partners to design, build, finance, operate and maintain the 16.2-mile light rail system. MDOT will be the owner of the project and its selected private partner, Purple Line Transit Partners, will implement the project on a design-build-finance-operate-maintain basis. Comprising the design-build construction team are Fluor, Lane Construction Corp. and Traylor Brothers. Atkins is the lead design firm with Mott MacDonald as a subconsultant.
Early project work included installation of erosion and sediment control measures, clearing and grubbing, grading, and building demolition, which began in September along the 16-mile alignment. Activities at the Bethesda Station south entrance include a shaft and cavern in rock, and drilling of soldier piles for the support of excavation in the overburden.
RELATED: Tunnel Achievement Award – Blue Plains Tunnel