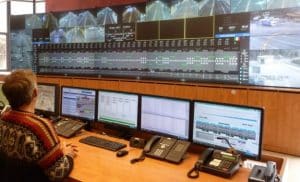 Mont Blanc Tunnel is at the forefront of security and innovation. Teams at GEIE du Tunnel du Mont Blanc are determined to meet this exacting standard by launching a new centralized control system for security equipment.
It uses cutting-edge technology to continuously analyse 36,000 data points received from equipment including sensors and cameras. The latest version called LOGOS (a French acronym for Localise, Organise, and Manage Security Operations) can store 36 times more data and automates more actions to help security teams respond even faster in the event of an incident.
ATMB (Mont Blanc Autoroutes and Tunnel company) and its Italian counterpart SITMB invested €4 million ($4.3 million) to deploy the system, which needed to be tested 1 million times, including 12,000 tests under actual conditions over the course of 25 nights when the tunnel was closed.
The Mont Blanc Tunnel's new security system is connected to the "control tower" (command and control center) where with a few clicks of a mouse, 22 operators working in shifts around the clock control all the tunnel's security equipment, from ventilation and barriers to rescue team alerts.
The system constantly analyses 36,000 security-related data points received from 157 cameras and 4,000 sensors placed throughout the tunnel. It detects, analyses and warns of any abnormal situations, like if a car has stopped inside the tunnel. It is capable of making 11,000 pieces of tunnel equipment interact with one another so that operators can decide whether to use a few clicks to launch the appropriate response for a given situation, for example turn on the ventilation system, lower barriers, or alert rescue teams.
RELATED: Gotthard Base Tunnel Celebrates Opening
LOGOS can store 36 times more data than the previous system and is used to train teams. Tunnel teams actually undergo daily training drills to increase their responsiveness. This new storage capacity means actual events that occur in the tunnel, for example a broken down vehicle, will be used as simulation exercises for response units. Operators can use real-time footage and actions in training courses to watch recorded incidents again, test their responsiveness and coordination, and make it easier to share the event with other security units.
More missions have also been automated in LOGOS, like radio calls and message dispatching. It features an updated interface designed to keep operators more focused on security actions. LOGOS is available on two duplicate redundant platforms, one in France and one in Italy.
"By improving the centralized system's performance, we are increasing response time for operators. This new tool is the culmination of human and technical performance. 20 people were mobilized for the entire duration of the project," said Cédric Petitcolin, project manager in the GEIE du Tunnel du Mont Blanc technology and IT department.
Extensive Testing
In 2012, teams at GEIE du Tunnel du Mont Blanc began a complete overhaul of the control system with an objective of using the latest technology. Based on feedback collected from 10 years of practice and operations, teams working on the tunnel compiled a list of new functionalities for the system to create a more innovative tool custom-built for the tunnel.
After a phase for development and testing in the plant, the teams spent a year testing the new system starting at the end of 2015. The rollout required 1 million tests, including 12,000 under real-life conditions during the 25 nights the tunnel was closed.
For this year-long testing phase, teams used a simulator to train in using the new system. All the operators at the command and control center have also followed a 40-hour training protocol to prepare them to use LOGOS as soon as it is launched. ATMB and its Italian counterpart SITMB invested a total €4 million ($4.3 million US) in the project.
Security a Top Priority
Mont Blanc Tunnel has become a global standard in security and innovation. Nearly 1,600 people including experts and industry professionals from around the world come to tour it every year. GEIE du Tunnel du Mont Blanc has adopted a policy for security teams based on three fundamental drivers:
1. Expert teams and routine training
– Over 260 people are assigned to the 11.6 km tunnel, including 70 firemen.
– Four simulated security drills are organized every year
– Response teams receive a total of 3,500 hours of additional training annually
2. A complete system with four levels of security
– Incident detection: The 22 traffic security operators working shifts 24/7 in the tunnel's "control tower" have three missions: control traffic, manage security equipment and report traffic conditions.
– Real-time traffic management and user information: 70 km speed limit, 150-m spacing between vehicles monitored by Binational Police officers, 40 lighted information signs, 120 traffic lights and 40 half barriers every 600 m, 12 FM channels.
– User protection: 116 safety rooms and 37 shelters measuring 40 m² every 300 m that are hermetically sealed and supplied with fresh air. They include equipment like a videophone and drinking water. The shelters are connected to an underground evacuation passage along the entire length of the tunnel.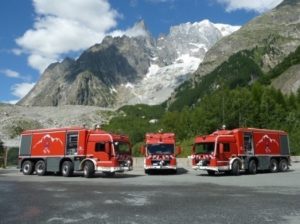 – Firefighting facilities and immediate response stations:
– Twelve firemen are stationed around the clock at each end and in the middle of the tunnel ready to deploy a Proteus truck, the only model of its kind in the world.
– There are 76 fans that can exhaust 150 m³ of smoke per second every 600 metres.
3. Major investments for the best and most innovative equipment
– In addition to the €400 million ($430 million) investment to reopen the tunnel in 2002, €59 million ($63 million) was spent to keep security facilities in Mont Blanc Tunnel constantly upgraded with the best technology,
– The most specialized fire truck in the world: Proteus. A fleet of four trucks equipped with all the latest innovations developed with tunnel crews, firefighters from Chamonix and Courmayeur, and experts from France and Italy:
– 12,000 liter reservoir with enough pressure for 20 minutes,
– two hoses with variable spray guns for a range of 60 m,
– a "start and go" button on the side of the vehicle that immediately turns it on and saves firefighters precious time,
– infrared cameras, next-generation radar and an extra-low cab so the truck can be driven under any visibility conditions.
RELATED: European Mega Projects Sign Cooperation Agreement