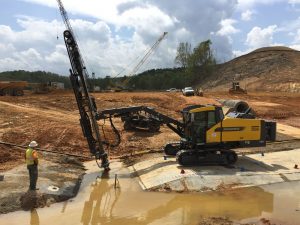 Pittsburgh-based geotechnical contracting firm Nicholson Construction Company is halfway through the first of two phases of its work at the Richland Creek Dam. The project is located in Paulding County, Georgia, in one of the only counties in the metro Atlanta region without an independent water supply.
With the County expecting its population to double in the next 25 years, the need for an independent water supply became critical. To meet the need, the State of Georgia has contributed more than $80 million in low-interest loans and grants to the development of a new water supply reservoir.
The Richland Creek Water Supply Program includes the construction of a new dam, reservoir, water treatment plant, two major pump stations, 20 miles of pipeline and other distribution improvements The new dam will be an earthen embankment that will stretch 2,965 ft long and 125 ft wide.
The first phase of Nicholson's work includes the installation of a 2,100-ft long, two-row grout curtain to a maximum depth of 140 ft and the second phase includes the installation of a 1,260-ft long cutoff wall that will be installed to a maximum depth of 82 ft for the new dam.
RELATED: Nicholson Piling Up CSO Jobs Across the Country
"We have a long history of helping to rehabilitate older dams across the country, so it's really great for us to be part of the construction of a new dam," said John Wise, Senior Vice President, Nicholson Construction. "This project is so integral to the growth and success of this community, and we're really proud to be part of the construction team."
Nicholson's first phase of grouting work will be wrapping up in September, and the second phase will begin in the fourth quarter of 2017.
The estimated timeframe for Paulding County residents to be drinking clean water from their own water supply and treatment systems is Spring/Summer of 2019.
RELATED: Nicholson Awarded Secant Pile Contract for St. Louis CSO Facility