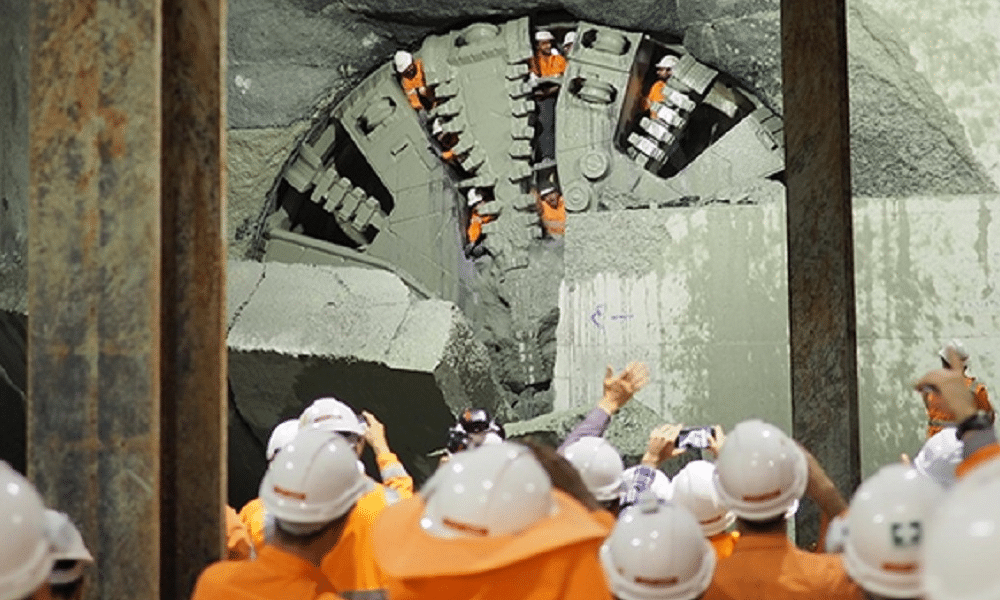 The Forrestfield-Airport Link project in Perth, Australia, reached a milestone on May 8 with the breakthough of TBM "Grace" into the underground station box at Airport Central Station. It's the first time the TBM has surfaced since beginning tunneling at Forrestfield nine months ago, having traveled 1.9 km and installed 1,188 rings.
The TBM entered the Airport Central Station box via a mass concrete false block, used to stabilize the walls and reduce water ingress. The TBM was guided through the 12.5 m block over a period of 24 hours, with a team of 15 present inside the machine for the final breakthrough. It will continue to advance into the station box in coming weeks while undergoing maintenance.
The project's second TBM, "Sandy," is due to arrive at Airport Central Station later this month and will follow the same process as Grace. TBM Sandy has so far traveled 1.8 km and installed 1,121 rings.
A significant milestone has been reached at Bayswater Junction with the completion of all 133 diaphragm wall (d-wall) panels for the tunnel portal and dive structure. The final d-wall was poured in the first week of May and marks the completion of d-wall construction across the entire project. Attention will now turn to excavation of the 400-m long dive structure and tunnel portal, where trains will enter and exit the Forrestfield Line tunnels.
RELATED: DSI Underground Australia Announces Intention to Acquire Fero Group
All dewatering recharge and monitoring wells have now been installed within the portal and continue to be installed along the dive structure. Dewatering will be confined to the work area and allow for deep excavation. Concrete capping beams have also been completed for the tunnel portal, and are now being constructed along the dive structure. These beams link the top of the d-walls together.
Excavation within the Redcliffe Station box is expected to be completed within the coming week. More than 42,000 m3 (97 percent) of spoil has been removed to date.
With Redcliffe Station the next stop for our TBMs on their 8 km journey to Bayswater, works will turn to the pouring of concrete for the base slab of the underground station box. Construction of the base slab is expected to begin next week and will continue until late August. After completion, dewatering at the site will be turned off.
Forrestfield-Airport Link is a $2 billion ($1.5 billion USD) State Government project to deliver a rail service to the eastern suburbs of Perth, with three new stations – Belmont, Airport Central and Forrestfield. The rail link will connect with the existing Midland Line near Bayswater Station and will run to Forrestfield through underground tunnels, ensuring minimal impact on the existing land and road network. In April 2016 the Public Transport Authority awarded the design, construct and maintenance contract to Salini Impregilo – NRW joint venture.