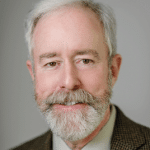 Prof. Raymond Seed will deliver the 2019 Stanley D. Wilson Memorial Lecture Thursday, March 28, at the University of Washington in Seattle. The Stanley D. Wilson Memorial Lecture, named in honor of the Shannon & Wilson co-founder, was established in 1989 to foster and maintain the spirit of thoughtful and practical engineering solutions.
Prof. Seed will present recently completed research on the engineering prediction of post-liquefaction residual strengths (Sr). A principal finding: the industry has been underestimating Sr for most projects. Improved characterization of Sr can sometimes "save" projects that might otherwise require extensive seismic mitigation. The research and engineering tools developed for evaluating post-liquefaction strengths involve development of new back-analysis methods, as well as new over-arching understandings of mechanics that usefully serve to explain the juxtaposition of many previous Sr investigations and relationships.
The result appears to be pragmatic predictive relationships for Sr that can be used with new confidence, both in simplified analyses as well as in more advanced nonlinear seismic deformation analyses of all types of potentially high hazard projects. This is particularly apropos for subduction regions like the Pacific Northwest.
Prof. Seed served as a Professor of Civil Engineering at Stanford University for four years before spending 31 years at UC-Berkeley, where he continues to serve as a Professor Emeritus. While his research involves theory, analysis and/or advanced physical testing methods, his significant forensic experience keeps him pragmatically focused. In addition to leading post-earthquake investigation teams following multiple domestic and foreign earthquakes, Prof. Seed has provided leadership in multiple non-seismic investigations, including leading the NSF team investigating levee failures during Hurricane Katrina, and the 1989 Kettleman Hills Waste repository failure. His work generally targets fomenting changes in both policy and practice.
The lecture will take place from 5:30-6:30 pm at the UW Tower Auditorium, 4333 Brooklyn Avenue NE, Seattle, WA 98195, with a reception to follow.
RELATED: Tunnel Achievement Award – Northgate Link Extension