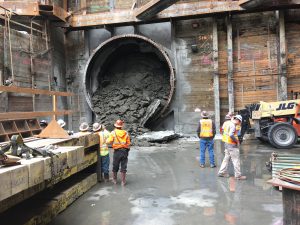 The $1.55 billion Regional Connector project for LA Metro, a 1.9-mile long subterranean twin rail tunnel linking L.A.'s Gold, Blue and Expo lines, punched through the site of the future 2nd/Hope Station in Bunker Hill on June 1. The tunnels, scheduled to wrap up by early 2018, will connect three new stations along the Connector's expanded path, from Little Tokyo to the Financial District in downtown Los Angeles, including the 1st/Central Station in Little Tokyo and the 2nd/Broadway Station in the Civic Center.
A 1,000-ton, 450-ft long tunnel boring machine christened "Angeli," simultaneously digs, builds circular concrete to shape the tunnels and lays train tracks at a rate of 50 ft per day while excavating 1,300 tons of soil. The TBM started its journey in March to dig the first tunnel starting from 1st and Alameda in Little Tokyo to 4th and Flower in the Financial District.
RELATED: LA Metro Christens TBM for Regional Connector
The route enhancements, scheduled for completion in 2021, will allow for single-seat rides between Santa Monica and East Los Angeles and between Azusa and Long Beach, eliminating the need for riders to transfer between trains.
This article was submitted by Arcadis, which is contracted to provide Construction Management Support Services for the project.
RELATED: LA Metro Celebrates End of Tunneling on Crenshaw/LAX