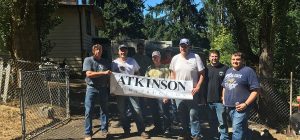 Through their ongoing involvement with the Bellevue Fire CARES nonprofit organization, the Sound Transit E330 Project team learned of an elderly, blind gentleman whose home had suffered extensive damage when a tree fell during a wind storm.
Exterior repairs had been made, but the interior remained in disarray. Project staff and craft employees from the Sound Transit E330 and E335 projects, including employees from Atkinson Construction, project subcontractor O'Neill Service Group, and Owner's representative McMillen Jacobs Associates, donated their time, and United Rentals donated equipment to this effort.
On Saturday, Aug. 26, the team replaced two exterior doors, insulated and dry-walled holes in the ceiling, filled holes in the floor, replaced the refrigerator and range, provided general cleanup inside the house, and removed debris from the yard. They also hired a subcontractor to replace a few broken windows.
RELATED: Atkinson Construction Low Bidder for East Link Tunnel
Individuals donating their time were Atkinson's Jake Coibion, Casey Henning, Nate Johnson, Nick Johnson, Kevin McKeon, Archie Kollmorgen, Lori Otto, Eli Redell, Karlyn Redell, Matt Rugh, Geoff Shook, and Ed Yperman, and subcontractor Greg Masten (OSG), Owner's representative Ted Depooter (McMillen Jacobs) and United Rentals also helped in their efforts in helping the individual.