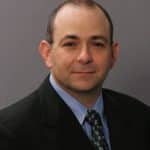 McMillen Jacobs Associates announced that Sam Swartz, P.E., has opened the Chicago office, relocating from the firm's Seattle office. While in Seattle, Swartz was the discipline lead for tunnel structural design for the dual light rail tunnels on University Link Extension and provided design support services during construction. He is currently the lead tunnel and shaft designer for Second Narrows Water Tunnel in Vancouver, B.C., and is providing support on other significant design projects.
Swartz will be managing the Chicago office, which opened in September 2017, and will be providing design leadership on regional projects, as well as providing business development for major underground pursuits. His 19 years of experience specializing in the design of large tunneling projects has been an asset to the firm since he joined in 1998. He has served as Project Manager and Design Lead on a number of large tunneling projects, including planning, preliminary design, final design, and design support during construction.
RELATED: Seattle Agency Opens University Link, Progressing on Northgate Link
Significant projects in addition to University Link and Second Narrows include Ottawa Light Rail, Mission Trails Pipeline Tunnel, Evergreen Line Rapid Transit, Northgate Link Extension, Northeast Interceptor Sewer, and Arrowhead Tunnels. Swartz has developed an expertise in bolted and gasketed, pre-cast concrete segmental lining systems. His technical knowledge also encompasses design of primary and final tunnel linings, analysis of settlements above tunnels, geotechnical assessment of ground conditions, and methods of ground improvement.
Swartz holds an MS degree in civil engineering from the University of California at Berkeley and a BS degree in civil engineering from the University of Michigan. He is a registered professional civil engineer in Illinois, California and Washington. His experience spans several countries, including Canada, Australia, New Zealand and the United States.
RELATED: Funkhouser Joins McMillen Jacobs Associates' Columbus Office