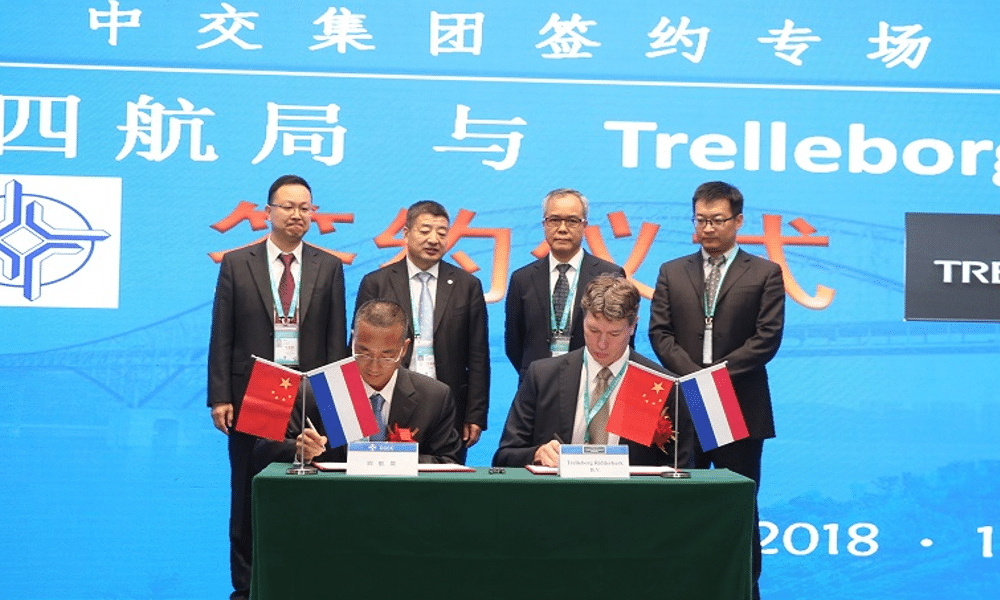 Trelleborg has signed a memorandum of understanding (MoU) with Fourth Harbor Engineering, one of China's largest infrastructure construction services institutions, and subsidiary of the state-owned China Communications Construction Company (CCCC). The MoU was confirmed during a signing ceremony during the China International Import Expo, held at The National Exhibition and Convention Center, Shanghai (Nov. 9).
The new strategic partnership will see both parties collaboratively carry out extensive research and development into polymer sealing systems to support China's ever-increasingly demanding tunneling projects. The agreement will also potentially see the supply of Trelleborg's industry leading tunnel sealing systems to Fourth Harbor Engineering's future tunnel projects including the ShenZhong Link and the Dalian Bay Immersed Tunnel.
The ShenZhong Link once completed will be the world's widest immersed tunnel and similar in length to the recently opened Hong Kong-Zhuhai-Macau tunnel, which utilizes Trelleborg's Gina gaskets and Omega seals between the tunnel's sectional elements. While the 5,140-m Dalian Bay Immersed Tunnel once completed will be the world's second-longest immersed tunnel.
Ruud Bokhout, Sales & Marketing Director for Infrastructure projects within Trelleborg, says: "Given the increasingly complex and demanding tunnel projects across China and beyond, partnerships throughout the supply chain and across industries are now critical. Bringing both organizations together allows us to capitalize on the best of both companies. We look forward to working closely with Fourth Harbor Engineering and learning more from them about where our product development should focus in order to best meet the needs of the increasingly complex and demanding tunnel projects across China and beyond."
Dai Liyun, Deputy Director of Fourth Harbor Engineering, says: "With Trelleborg's unrivaled global track record in successfully designing and supplying sealing systems to many of the world's most challenging tunnel projects, we had no hesitation in signing the MoU with Trelleborg – a natural progression of our existing relationship."
For more information on Trelleborg's sealing systems for tunnels, click here.
RELATED: Trelleborg Breaks into American Tunnel Market with High-Performance Seals