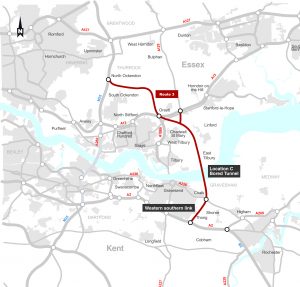 On April 12, 2017, the U.K. Secretary of State for Transport Chris Grayling announced the preferred route for the Lower Thames Crossing, a bored tunnel crossing under the River Thames east of Gravesend and Tilbury.
This announcement follows an exhaustive review of options and extensive analysis of more than 47,000 responses to the Department for Transport's (DfT) 2016 public consultation. DfT considered each response and carried out further assessment of the options before making its recommendation to government.
The new crossing will offer improved journeys, new connections, network reliability and economic benefits that only a new, alternative crossing location, away from Dartford, can provide.
RELATED: Tunneling Begins for UK's Northern Line Extension
The Lower Thames Crossing will be a new road crossing connecting Essex and Kent. The estimated cost is between $5.5 billion and $7.75 billion (US).
Wired.co.uk reports that the crossing will be London's first new river tunnel in 26 years – the first since the Dartford crossing in 1991. The Lower Thames Crossing is expected to open between 2025 and 2027 depending on financing and would carry 4.5 million heavy goods vehicles in its first year.
RELATED: Short List Announced for London's Silvertown Tunnel