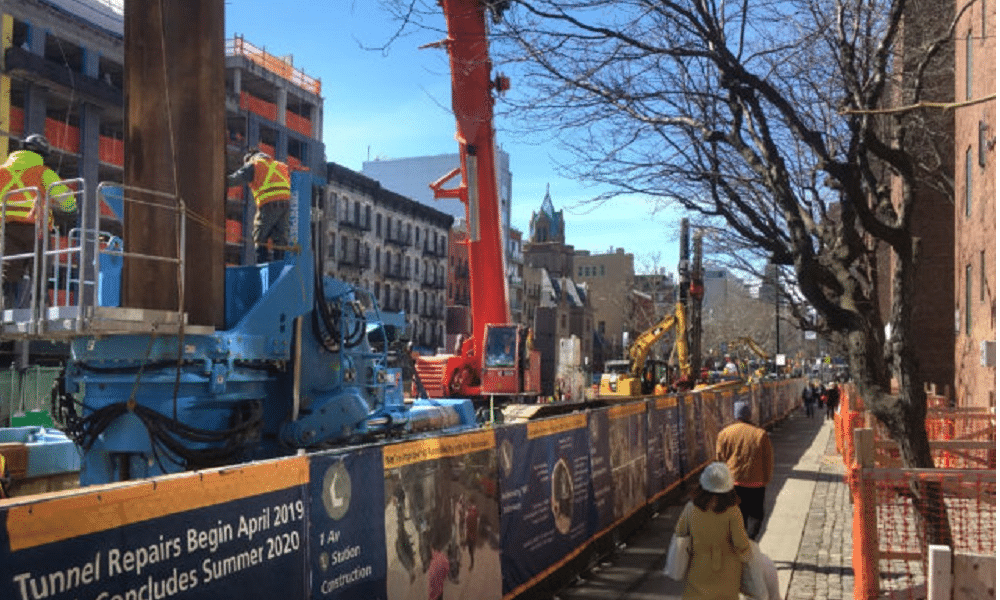 A project commissioned in New York City's MTA/New York City Transit, intended to repair hurricane damage to the area's subways and to renovate its subway stations, has successfully completed as of mid-April. This is the first-ever such project in Manhattan to use the Press-in Method, which utilizes the Silent Piler, a pile press-in and extraction machine manufactured and sold by Kochi, Japan-based Giken Ltd. (Representative Director and President: Akio Kitamura)
In 2012, Hurricane Sandy made landfall in the New York City area, sending tidal surges crashing onto the city and causing major flooding in coastal areas and in its transportation infrastructure. The storm had an immense impact on the regional economy and general populace, cutting power to eight million homes, paralyzing transport methods and shuttering businesses temporarily. Damage is estimated at over $70 billion, and reconstruction and revitalization efforts continue even six years on.
The project to rebuild the Manhattan subways was fraught with difficulties preventing installation of traditional sheet piles – soil above the bedrock often contained boulders and even metallic or other waste, some of which remained from the original construction of the subways. Beyond that, there were concerns about collateral damage to lifelines, commercial facilities, and roadway infrastructure built underground – the decision was therefore made to limit the project's impact on neighboring areas and utilize Giken's Hard Ground Press-in Method, which can penetrate harder soil. For this project, Giken group company Giken America Corporation provided the Silent Piler on a rental basis and dispatched technical advisors to Judlau Contracting, the company receiving the contract for the subway rebuilding. Giken America's cooperation with the local operator ensured that the project would continue smoothly despite the presence of very challenging conditions at the site.
The Trump administration has proposed an infrastructure spending plan worth $1.5 trillion over the course of the next 10 years; this is expected to accelerate the process of fighting the growing dilapidation of New York's subways and underground lifelines, parts of which date back over 114 years. Giken America has received an increased amount of inquiries from those who observed the project in question, including potential contract principals, design firms and construction firms based in the New York area – the results of this project are expected to increase awareness of and contracts for the Press-in Method in one of the most iconic cities on the planet.
RELATED: Hill, Jacobs to Manage Canarsie Tunnel Rehab in New York