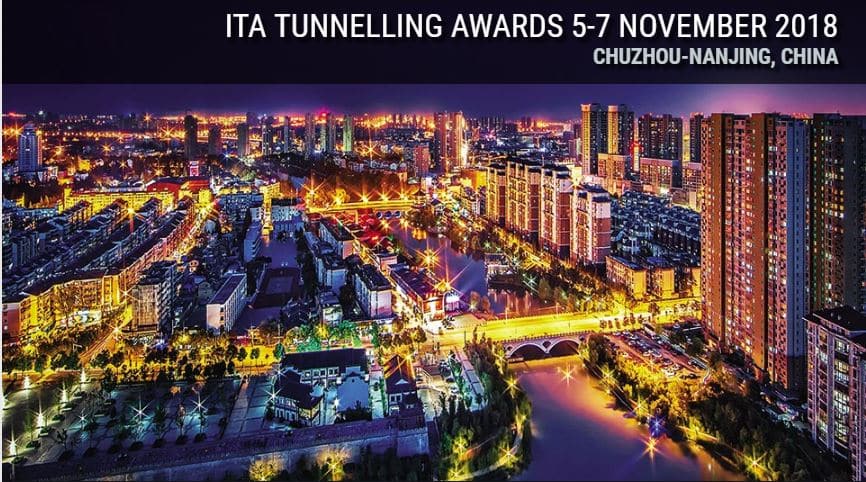 Since the first edition in 2015 by the International Tunnelling and Underground Space Association (ITA), the first three editions of the ITA Tunnelling Awards gathered more than 650 attendees and 234 candidacies.
The 17-strong expert judging panel, chaired by the ITA President Tarcisio Celestino, has concluded its deliberation and based on the detailed evaluation, 34 entries have been chosen as finalists and will participate in the second evaluation stage to determine winners.
The winners will be recognized on Nov. 7 in Chuzhou, China, in conjunction with the Chinese Tunnel and Underground Works Conference (CTUC).
ITA Tunnelling Awards 2018 Finalists

MAJOR PROJECT OF THE YEAR (BUDGET OVER €500 M)
China's Mega Water Project: Jilin Yinsong Water Supply, China
Liantang/Heung Yuen Wai Boundary Control Point Project, Hong Kong, China
The Immersed Tunnel of Hong Kong-Zhuhai-Macao Bridge Link, China
The West Qinling Tunnel on Lanzhou-Chongqing Railway, China
PROJECT OF THE YEAR (BUDGET BETWEEN €50 M and €500 M)
Foshan Dongping Tunnel, China
Gongbei Tunnel of the Hong Kong-Zhuhai-Macau Bridge, China
Queershan Tunnel on National Road 317, China
Vamma 12 Hydropower Project, Norway
PROJECT OF THE YEAR INCL. RENOVATION (BUDGET UP TO €50 M)
Kaikoura Earthquake Recovery Main North Line Tunnels, New Zealand
Maroggia Railway Tunnel, Switzerland
Trenchless Tunnel Construction of Bukit Panjang MRT Entrance and Underpass, Singapore
Zarbalizadeh Shallow Tunnel Construction underneath the Operating Railways, Iran
TECHNICAL PROJECT INNOVATION OF THE YEAR
A Mechanized Method with Large Section Horseshoe Shape EPB-TBM First Applied in Loess Mountain Tunnel, China
Challenges in Designing a Complex Urban Tunnel in Tehran, Iran
TBM Entry Works Under Sea Level Near Istanbul Bosphorus, Turkey
Velstertunnel Project: Integrated BIM for Failure Free Retrofitting of a Motorway Tunnel, Netherlands
TECHNICAL PRODUCT/EQUIPMENT INNOVATION OF THE YEAR
An Innovative Hard-rock TBM-mounted System for Geological Forward-prospecting, China
FlatMesh Wireless System, United Kingdom
Innovative Backfill Grout for Dilative Soils, Germany
Multifunctional Energy-Storage and Luminescent Material for Sustainable and Energy-saving Lighting for Tunnels, China
INNOVATIVE UNDERGROUND SPACE CONCEPT OF THE YEAR
Ecological Civil Construction and Intensive Land Use of Metro Project, China
Norwegian Rock Blasting Museum, Norway
Underground Pedestrian Passage under Heiniucheng Road in Tianjin, China
SAFETY INITIATIVE OF THE YEAR
Safeguarding Workers while Tunneling through Rocks Containing Natural Asbestos, Italy
MineARC's Aura-FX Digital Gas Monitoring Technology, Australia
ROBY 850 – Semi-Automatic Drilling Robot, Hong Kong, China
Anderson Road Quarry Development Works, Hong Kong, China
YOUNG TUNNELER OF THE YEAR
Fredrikke S G Syversen, Norway
Giuseppe M. Gaspari, Italy
He Yingdao, China
Jack Muir, New Zealand
Mandy Ang, Malaysia
Morteza Javadi, Iran
Senthilnath G T, India
RELATED: 2017 Tunnel Achievement Award – Blue Plains Tunnel