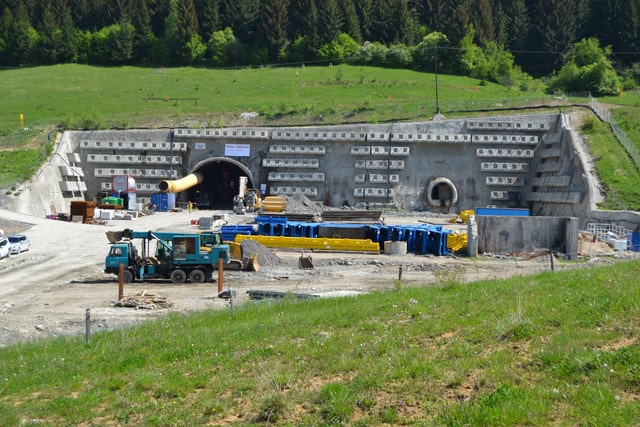 The ground-breaking ceremony of the West Portal of the Lietavská Lúčka–Višňové–Dubná Skala stretch of the D1 highway, took place June 9 at Višňové in northern Slovakia. The ceremony marked an important milestone consisting in the excavation of the first 100 m (West and East Portal) of what will become the country's longest tunnel.
The planned twin-tube tunnel, 7.5 km long, is part of the 13.4 km section of the D1 highway under construction by the joint venture led by Salini Impregilo. It is also part of the Corridor No. 5 of the Trans-European Networks (TEN), which links Bratislava with Uzhhorod in Ukraine. The project is financed by the Slovakian government and the European Union through the European Investment Bank.
The design and build contract worth about €410 million ($465 million) was assigned to the joint venture Salini Impregilo (leader)-DUHA in 2014 by the National Highway Company (NDS), owner of the Motorway Preparation and Construction Program. The expected duration of the works is 66 months.
The ceremony was presided by the Slovakian Transport Minister Počiatek Ján, Chief Representative of the EU in Slovakia, Dušan Chrenek, the Mayor of Žilina Igor Choma, and the General Director and Chairman of the NDS Milan Gajdoš, as well as Salini Impregilo CEO Pietro Salini together with the General Manager for International Operations, Claudio Lautizi.
Salini Impregilo confirms its leadership in the construction of transport infrastructures. It has a track record of 36,500 km of roads and motorway construction in addition to 1,350 km of underground works.