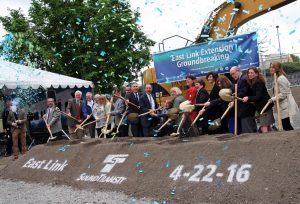 Light rail service to the Eastside took a big step forward recently as Sound Transit's contractor began work on the downtown Bellevue tunnel, marking the start of East Link construction.
On April 22, federal, state and local officials gathered near the construction site to celebrate the groundbreaking. Senator Patty Murray, Sound Transit Board Chair and King County Executive Dow Constantine, King County Council Member Claudia Balducci and Bellevue Mayor John Stokes were among the speakers who were just a few feet away from where the downtown Bellevue tunnel will begin carrying passengers in 2023.
The 14-mile light rail extension approved by voters in 2008 will provide reliable 24-minute trips from downtown Bellevue to Westlake Station in downtown Seattle.
"Today, we begin connecting the east and west sides of Lake Washington with high-capacity light rail—a project that will revolutionize travel to and from the Eastside," said Sound Transit Board Chair and King County Executive Dow Constantine. "East Link will provide a quick, reliable trip from downtown Bellevue to downtown Seattle, delivering mass transit that will transform our region."
RELATED: Atkinson Construction Low Bidder for East Link Tunnel
Contractors have begun preparing the site just south of downtown Bellevue near East Main Street and Northeast 112th Street for the tunnel portal where trains will transition from the surface to a 1/3-mile-long tunnel under downtown before reemerging to the surface near Northeast Sixth Street.
Guy F. Atkinson Construction was the low bidder on the East Link tunnel project, which involves building a 2,150-ft SEM tunnel under downtown Bellevue. Atkinson bid $121.4 million, the lowest of seven bidders. The engineer's estimate was $156.9. The tunnel design team included Mott MacDonald, Jacobs Engineering Group, and HNTB.
The overall East Link Extension comprises 14 miles of light rail transit linking the Eastside business and population centers with downtown Seattle, Sea-Tac Airport and the University of Washington. The $2.8 billion extension is expected to be open for service in 2023.