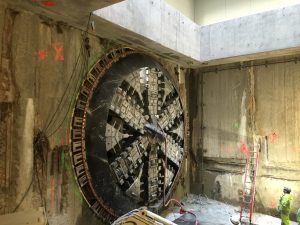 The tunnel boring machine (TBM) mining the tunnel that will serve northbound light rail trains to Northgate beginning in 2021 holed through the wall of its retrieval shaft at the University of Washington light rail station on March 30, completing one of two 3.5-mile tunnels for the Northgate Link Extension.
"Our tunnel projects are on track to connect more people to fast, reliable mass transit," said Sound Transit Chair and King County Executive Dow Constantine. "This latest breakthrough at Husky Stadium brings us another step closer to extending high-capacity light rail to Northgate by 2021."
RELATED: Sound Transit Opens University Link
The holethrough completed the fifth of six tunnel segments being mined by JCM Northlink LLC, Sound Transit's tunneling contractor for the Northgate Link light rail extension comprising Jay Dee, Michels and Coluccio. The TBM was launched from the Maple Leaf Portal at NE 94th Street south of Northgate Mall in July 2014. Another TBM, launched from the Maple Leaf Portal in November 2014 and reached the U District Station site last week.
Both machines will undergo a thorough inspection at their respective hole-through sites. Once inspections are complete, the contractor will determine which machine will be used to mine the final tunnel segment. Crews will then spend two to three months refurbishing the selected TBM to prepare for its launch on the last segment to the University of Washington.
RELATED: Northgate Link Project the Latest in Seattle's Transit Build Out
Tunneling with the tunnel boring machines is expected to be complete by the end of this year. Tunnel finishes and cross-passages, which connect the train tunnels and provide emergency exits, are scheduled to be complete by the first quarter of 2018. When light rail service on the Northgate Link extension begins in 2021, trains will enter and exit the tunnels in the Maple Leaf Portal.