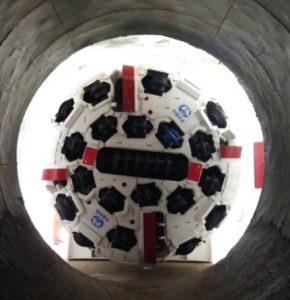 On May 5, 2017, CREG's 3.5-m diameter gripper TBM Lèa made its first breakthrough of Tunnel Drive 3 in the Greater Beirut Water Supply Project in Lebanon. A celebration was held in presence of representatives from CMC di Ravenna (the contractor), the local authorities, CREG and all project partners.
The Greater Beirut Water Supply Project including the construction of tunnels extending for approximately 24 km and transfer lines for the potable water supply of Beirut is contracted by Italian CMC di Ravenna. This water supply project can be divided into two large parts: tunnels in the hilly area and underground pipelines in the urban area. The tunnels (called Drive 1, 2 and 3) will be completed by two gripper TBMs. CMC signed a contract with CREG on the supply of two gripper type hard rock TBMs in June 2015. The two 3.5-m diameter gripper TBMs are named "Lèa" and "Yasmina." The TBM Lèa is planned to bore Tunnel Drive 3 (4.13 km) first and then be transferred to bore Tunnel Drive 1 (8.10 km) while the TBM Yasmina is planned to bore Tunnel Drive 2 (10.37 km).
The local geology mainly consists of limestone, dolomitic limestone and dolomite, behaving intact to moderately weathered, with UCS strength from 50 to 170 MPa. According to the geotechnical investigation, tectonic faults and highly fractured rock will be encountered during mining. The TBM will use wire mesh and ring beams for additional support.
RELATED: Rebuilt Robbins Tackles Water Supply Project in France
The TBM will face a maximum incline of 4.97 % for Tunnel Drive 3, designed to pass under an existing valley. It is a big challenge for an open gripper TBM, especially when dealing with dewatering works. Despite the challenges, TBM Lèa's average overall rate since the launching of the TBM was 18 m per day, whereas the maximum advances were 48.22 m for a day and 894.4 m for a month (April 2017).
TBM Yasmina was launched on Sept. 11, 2016,and has successfully driven through the tunnel section on minimum radius curves of 300 m in the initial stage, and it has driven over 4.5 km.
The Greater Beruit Water Supply project is scheduled to go into operation in 2019 to supply potable water for 1.6 million people in the region.
RELATED: Colorado's Michigan Ditch Tunnel Secures Water Delivery for Fort Collins