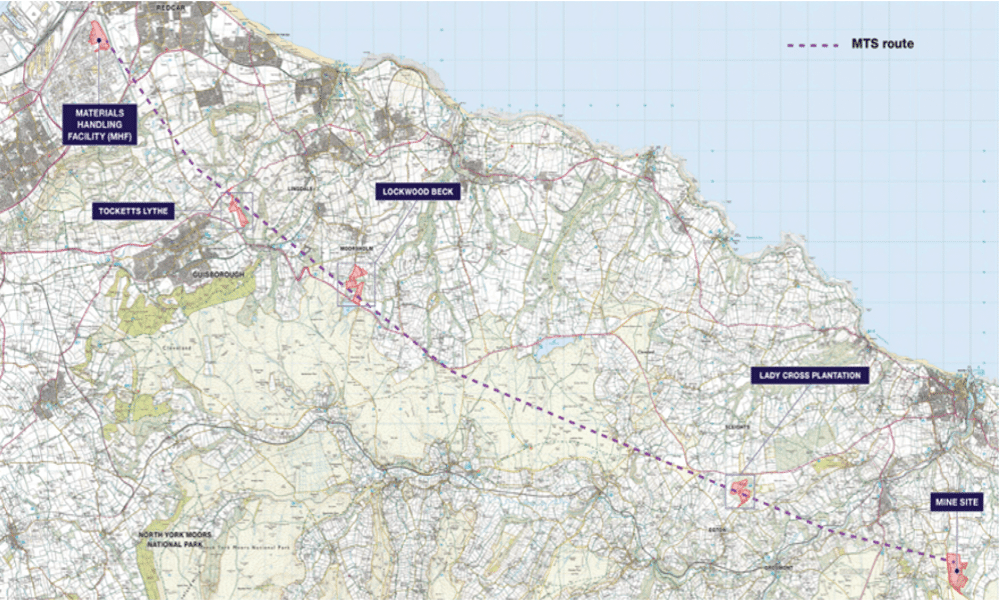 Sirius Minerals Plc. has hired the European construction group STRABAG SE to build an approximately 13-km tunnel section for the underground transport system of the Woodsmith Mine near Whitby, North Yorkshire, England. The design-and-build contract was signed on 28 March.
The Woodsmith Mine will begin extraction from the world's largest deposit of polyhalite, a mineral used in the production of fertilizer, in 2021. The section to be built by STRABAG is part of a 37-km tunnel with a diameter of 4.7 m for an environmentally friendly conveyor system to transport the mined polyhalite to Wilton for processing. The STRABAG contract also includes the construction of a tunnel ramp as well as the tunnel portal at Wilton. The actual tunneling works will cover the distance from the Wilton portal to a shaft at Lockwood Beck, with 150 m to be built via cut-and-cover construction, 800 m through conventional tunneling and 11,900 m using a tunnel boring machine. Site mobilization is to begin immediately.
RELATED: STRABAG Assumes Construction of GKI Project in Austria
STRABAG was closely integrated in the project design through an early contractor involvement (ECI) process. This has allowed the company to develop efficient new solutions that convinced the client of its capabilities.
Simon Carter, Sirius' Chief Development Officer, points out that "Sirius has undertaken a competitive procurement process in respect of Drive 1 to ensure that the best tunnelling option was developed. STRABAG was the winning tenderer, providing a compelling offer in terms of price, schedule, safety management and risk allocation."
"We are very proud to have acquired this project. It shows that the early involvement of the contractor in the preconstruction phase offers many advantages and can make a decisive contribution to the success of the project. Early contractor involvement makes it possible to recognise potential for optimisation at an early stage and to use this potential over the entire duration of the project," says Thomas Birtel, CEO of STRABAG SE.
The project is currently the second tunnelling project for STRABAG in the United Kingdom. The company is part of a consortium that last year was awarded two lots for the HS2 high-speed rail line.
RELATED: STRABAG to Build Rail Tunnel in Canada